Comments for movies: Haute Cuisine
Vote
(Total
0
Votes )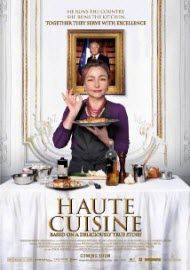 Movies:
Haute Cuisine
Director:
Christian Vincent
Cast:
Catherine Frot, Arthur Dupont, Jean d'Ormesson
Production Co:
Vendôme Production, France 2 Cinéma, Wild Bunch
Genres:
Biography, Comedy
Runtime:
95 min
Country:
France
Release Date:
2012
Hortense Laborie is a celebrated chef living in the Perigord region. To her great surprise, the President of the Republic appoints her as his personal cook. She accepts reluctantly but once she has accepted her nomination, Hortense works her heart and soul to produce both a stylish and authentic cuisine. For a while, she manages to impose herself thanks to her sturdy character and despite the jealousies she arouses among the other chefs. For a while only, unfortunately for her and for...