Comments for movies: Everything Or Nothing: The Untold Story Of 007
Everything Or Nothing: The Untold Story Of 007
Vote
(Total
0
Votes )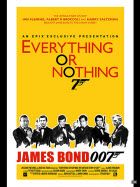 Movies:
Everything Or Nothing: The Untold Story Of 007
Director:
Stevan Riley
Cast:
Ken Adam, Maud Adams, John Barry
Production Co:
Passion Pictures, Red Box Films
Genres:
Documentary
Runtime:
98 min
Country:
UK
Release Date:
2012
Of all of pop culture's mainstays, no media property created after the Golden Age of Hollywood has had more influence and staying power than the James Bond franchise. This film covers the story of that creation from the imagination of Ian Fleming seeking an escape from his boring intelligence job. From that literary success, we follow the creation of the film series under the producer team of Broccoli & Saltzman as it became a media sensation in the 1960s. As the franchise dealt with changing actors, legal conflict with writer Kevin McClory and the growing internal schisms with the producers, it has its greatest challenge: the changing times. Despite this, Bond has proven as incredible adapting to them as his adventures as the greatest of the spies...