Comments for movies: Cahill U.s. Marshal
Vote
(Total
0
Votes )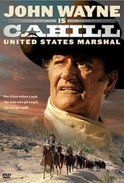 Movies:
Cahill U.s. Marshal
Director:
Andrew V. McLaglen
Cast:
John Wayne, George Kennedy, Gary Grimes
Production Co:
Warner Bros., Batjac Productions
Genres:
Drama, Western
Runtime:
103 min
Country:
USA
Release Date:
1973
J.D. Cahill is the toughest U.S. Marshal they've got, just the sound of his name makes bad guys stop in their tracks, so when his two young boy's want to get his attention they decide to rob a bank. They end up getting more than they bargained for...