Comments for movies: Becoming Jane
Vote
(Total
0
Votes )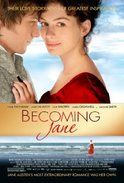 Movies:
Becoming Jane
Director:
Julian Jarrold
Cast:
Anne Hathaway, James McAvoy, Julie Walters
Production Co:
HanWay Films, UK Film Council, Bórd Scannán na hÉireann
Genres:
Biography, Drama, Romance
Runtime:
120 min
Country:
UK, Ireland
Release Date:
2007
The year is 1795 and young Jane Austen is a feisty 20-year-old and emerging writer who already sees a world beyond class and commerce, beyond pride and prejudice, and dreams of doing what was then nearly unthinkable - marrying for love. Naturally, her parents are searching for a wealthy, well-appointed husband to assure their daughter's future social standing. They are eyeing Mr. Wisley, nephew to the very formidable, not to mention very rich, local aristocrat Lady Gresham, as a prospective match. But when Jane meets the roguish and decidedly non-aristocratic Tom Lefroy, sparks soon fly along with the sharp repartee. His intellect and arrogance raise her ire - then knock her head over heels. Now, the couple, whose flirtation flies in the face of the sense and sensibility of the age, is faced with a terrible dilemma. If they attempt to marry, they will risk everything that matters - family, friends and fortune...