Comments for movies: Regret To Inform
Version 1
Server Veoh
Version 2
Server NovaMov
Version 3
Server VideoWeed
Vote
(Total
1
Votes )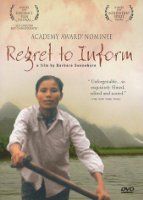 Movies:
Regret To Inform
Director:
Barbara Sonneborn
Cast:
Xuan Ngoc Nguyen, Barbara Sonneborn
Production Co:
Sun Fountain Productions
Genres:
Documentary, War
Runtime:
72 min
Country:
USA
Release Date:
1998
In this film made over ten years, filmmaker Barbara Sonneborn goes on a pilgrimage to the Vietnamese countryside where her husband was killed. She and translator (and fellow war widow) Xuan Ngoc Nguyen explore the meaning of war and loss on a human level. The film weaves interviews with Vietnamese and American widows into a vivid testament to the legacy of war...