Comments for movies: The Fighting Temptations
Vote
(Total
0
Votes )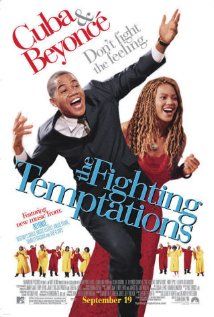 Movies:
The Fighting Temptations
Director:
Jonathan Lynn
Cast:
Cuba Gooding Jr., Beyoncé Knowles, Mike Epps
Production Co:
Paramount Pictures, Handprint Entertainment, MTV Films
Genres:
Comedy, Drama, Music, Romance
Runtime:
123 min
Country:
USA
Release Date:
2003
A New York advertising executive who is about to land a big account, has his life shaken up when it becomes known that he has lied about having a college degree. After being fired, his life is further shaken by his debtors who had counted on paying after landing the account. Having to go on the run, he is called back to his southern town roots, when his great aunt dies. At the reading of the will, he learns he has been asked to assume the mantle of choir director of his great aunt's church and if he can get the choir in the Gospel Explosion in Atlanta, he will inherit stock worth $150,000. Unfortunately the choir leaves a lot to be desired and he has to start recruiting. Among others, he gets three prisoners to join. More importantly, he gets a "sinner" from one of the local night clubs to join...